Workers' Compensation Injury
Injured at work?
Your care is covered 100% at Oak Creek Relief & Wellness!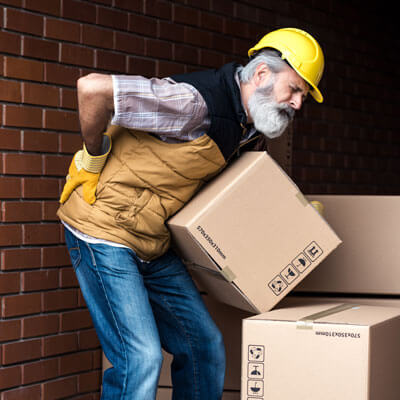 From sustaining falls or slips to experiencing repetitive strain injuries, many people hurt themselves while on the job. At Oak Creek Relief & Wellness we have the expertise to help you if you've experienced a work-related injury.
Here are two important steps to take as soon as possible after you've been injured:
STEP 1
Report your injury immediately to your supervisor and fill out an accident report. This step is VERY IMPORTANT!
STEP 2
Call Oak Creek Relief & Wellness at (414) 761-5777 immediately after your injury. Wisconsin law lets you seek care wherever you like! Do not feel like you have to go to your company's doctor or clinic. Often it is not in your best interest.
We feel confident caring for the following issues in various workers' compensation scenarios:
Jaw pain
Neck pain
Shoulder pain
Upper back pain
Mid back pain
Lower back pain
Elbow pain
Hip pain
Wrist pain
Knee pain
Foot pain
Ankle pain
What to Expect
Similar to how we handle auto accident cases, you'll come to the office for a consultation, followed by a comprehensive exam and digital X-rays. Again, your care is covered completely. You don't have to worry about any out-of-pocket expenses.
We also will stay in contact with your employer and forward reports to your company regarding the status of your condition.
Book an Appointment
Contact us today to schedule an appointment. We want to help you get the care you need so you can recover from your injuries and return to work.
CONTACT US »

Workers' Compensation at Oak Creek Relief & Wellness | (414) 761-5777