Oak Creek Relief & Wellness Reviews
At Oak Creek Relief & Wellness we love when patients share with us their feedback and comments after chiropractic care. Please read our patient testimonials below to see what other people have achieved through their tailored treatment plans with us.
For more information or to schedule an appointment call or email us today.
Diana's Testimonial
Rita's Testimonial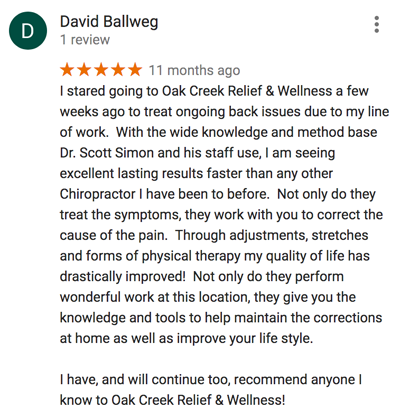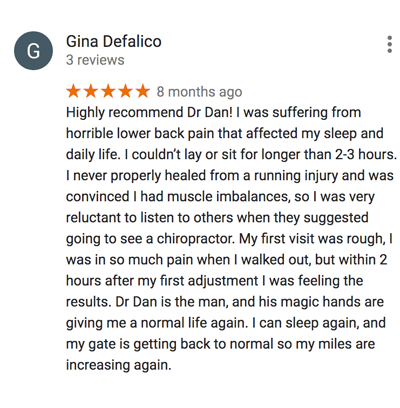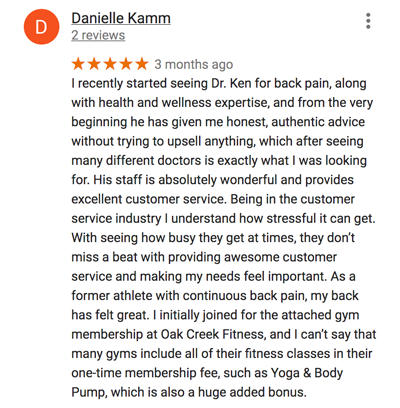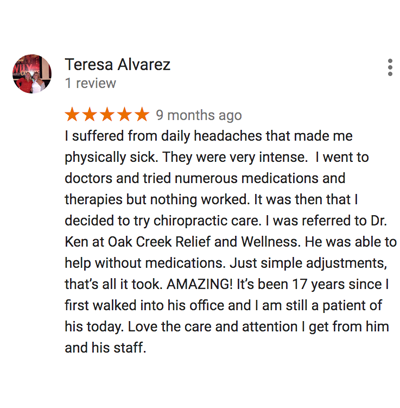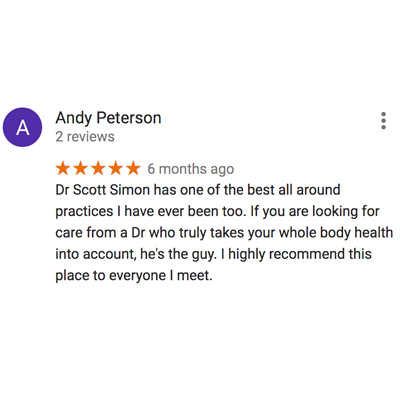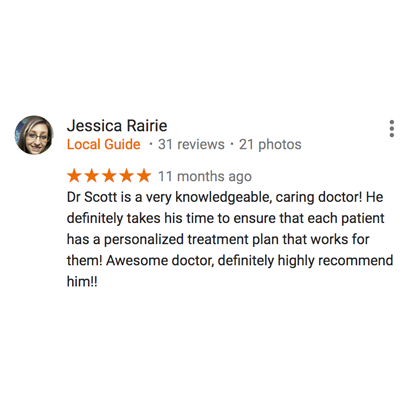 Extremely Pleased
My doctor and his excellent staff have treated my wife and myself for several years now. We have been extremely pleased with the treatment, care and compassion exhibited by my doctor and everyone else at Oak Creek Relief and Wellness. The facilities there are all also state of the art for acute care, wellness and fitness.
As a pastor I also take very seriously who I recommend to my congregation, but we have been so well treated at Oak Creek Relief and Wellness that I have referred several church members to his care. To me that is the highest measure of confidence I can give. I endorse him without hesitation!
-Rev. Wayne R.
Decompression Program Helped Me Avoid Surgery
As a school bus driver, I had an accident Sept. 11, 2000 resulting in whiplash and bulging discs. I was so pleased to receive help without surgery at Oak Creek Relief & Wellness. It was FANTASTIC there! My lower back hurt so much it made my life a trial. I'd sleep for one hour then wake in pain, shift positions, fall asleep, just to wake to do it all over again in another hour or so. This went on for almost 7 years. There are so many benefits to Dr. Krimpelbein's Decompression Program. I can feel my butt, my toes can now hold my sandals on, I walk, dance, do outside as well as house work with no pain. I can drive or ride to our cabin without pain.
Surgery scared me and was presented as my ONLY option. Until Dr. Krimpelbein's Decompression Program, I had a really scary and painful future. Now I have a life! Thank You! I am restful, without pain, and I am happy. I am a tomboy and now I can hunt, fish, campout, hike, bike, row a boat, ride horses, dance, and hold my grandbabies without fear of dropping them. I now can do more than watch others. I can be in the action!
-Kathleen C. (Racine, WI)
Low Back & Neck Pain Relief
I originally came into Oak Creek Relief & Wellness in January 2011 with lower back and neck pain. The back had been bugging me for about 15 years, and the neck had been about 5 years. When the pain had first started back in the day, it would come and go, and wasn't much of a concern. Only the last few months to a year did it become pretty constant, so I sought treatment.
In the past, I had tried physical therapy, which seemed to work the muscles well, but never really took care of the pain totally. It seemed to help slightly, but wasn't that effective. I was basically uncomfortable all the time. While it didn't really stop me from doing things, it did limit the amount of time I was able to participate in certain activities- sports, playing with the kids, yard work, etc.
Like many, I was a bit skeptical of chiropractic at first. I had heard the stories about them being bone crunchers, certain injuries, etc., all of which are misinterpreted. After sitting down with my doctor and learning what type of program he would put me on, it made sense to give it a try. I felt things were explained very well, I knew what I could expect from the plan, and I was inspired to get going.
At this time, about 4 months into correction and treatment, I am pretty much pain free. I still have some slight pains when I wake up in the morning, but it pretty much goes away within a half hour, and the rest of the day is great! It has continued to get better every day it seems.
The experience that made me particularly happy was the fact that I have gotten results that have been, and seem as if they'll continue to be long term, rather than just the quick fix that didn't last, or just masking the pain with medication. I am able to basically carry on with life's daily activities without experiencing back and neck pains. Another benefit is that we also discussed overall health issues/improvements during my visits, which has helped me get back on track physically through exercise and diet.
The main advice I would give anyone with similar issues is that if you are living with pain and feel that it's just something you have to live with, it's not true! If you take the time to truly learn what chiropractic care is about and give it a chance, your quality of life really can be improved.
-Steve L. (Big Bend, WI)
Simple Things Have Become Simple Again
I had been dealing with pain in my upper back area since about 1985, but it never was constant until about 3 years ago. My whole right side of my neck, shoulder, and upper back area would ache, burn, and at times, be sharp shooting pain. The pain was so bad that I couldn't sleep through the night. It also interfered with housework, dressing, doing my hair and writing. The simple things were no long simple. It got to the point where I could not lift my grandsons, which broke my heart. I didn't know what to do, and over-the-counter pain relievers I tried wouldn't work at all, no matter which I tried. Believe me there was quite a few I took. I tried physical therapy too. I had about 20ish sessions of PT, but still had pain!
I started seeing my doctor in November 2010. I was impressed that on the first visit Dr. Scott took the time with me to understand what I have been going through. I was happy that My doctor took x-rays, did an exam, and waited to treat me until after he looked at my x-rays and exam results. That way he was able to pin point the problem and we could come up with a "game plan" together in the second visit. On the second visit my doctor went over my x-ray with me, he let me know he knew what to do to help me with my pain and didn't want to waste any time to get me pain free! After about 6 or 7 weeks of seeing my doctor I am feeling so much relief. I still have some discomfort but nothing like before. This discomfort is tolerable, manageable even.
Besides just less pain, the simple things have become simple again! Dressing, doing my hair, housework, no problem! I can sleep through the night without pain. I can even write this testimonial for my doctor pain-free, something that was so hard to do before I became a patient of his. I have become a fun grandma again to my wonderful grandkids. I can lift them up and play with them, and it warms my heart to see their smiling faces when we are having fun together.
I have been so relieved of my aches and pains, and how they were affecting my life, people shouldn't hesitate to see a chiropractor. Better yet see my doctor. I feel so much better all over thanks to him. You're in the right place! Thank you Big Bend Relief and Wellness and my doctor!
-Charmein K. (Waterford, WI)
Decompression Gave Dancing Back to Me
I first became Dr. Krimpelbein's Decompression patient early April 2007. Overall, I felt Oak Creek Relief & Wellness is a very professional place with a positive and friendly staff. It is a nice, well-equipped facility. Due to my work schedule, I am generally not available during the regular clinic hours. Thanks to the doctors and staff's willingness to come in early, I was very happy that I was able to minimize my time away from my job. Now I can dance again (pain free). I literally couldn't make my feet move to dance before.
Being able to return to dance classes has restored my social life as well as given me back my primary form of exercise. Another great benefit is that I have more energy and zip, as my co-workers have noted. When the office held its last evacuation drill, I was the last person to arrive at the Safe Spot. As I lumbered up to the group, I realized that had this been an actual emergency I just might not have made it out. Now I have no such concern. I've even lost 6 lbs.
-Susie R. (South Milwaukee, WI)
Decompression is Outstanding!
I became a patient after watching an ad on TV for Dr. Krimpelbein's Decompression Program. I called the toll-free number on the screen and they sent me free information and referred me to Oak Creek Relief & Wellness. I think this is one of the best places I have ever been for the problems I was having. I have never been anywhere that is more concerned about you, the patient. I was very happy with the way I was tested before anything was even done and being told that the Decompression Program may help me. After only 5 treatments on the machine I could feel a vast improvement on all the things that were giving me trouble.
I appreciated the way I was taken care of by your staff through all phases of treatment. It was outstanding! I really liked the benefits that the machine was doing for me and that things were getting so much better. It made me feel like my legs are alive again. I have feelings back in them again, especially my left leg. The numbness is gone from my thigh, calf and foot on the left leg. I can walk much better and seem to have more movement in my legs. My hips don't ache any more after walking a couple of miles with the dog. I can honestly say that I feel better than I have in twenty years thanks to all of you!
-Ron S. (Kenosha, WI)
Try Chiropractic Before Surgery!
After I was diagnosed with degenerative discs, it was recommended that I have surgery to fix the problem, a few months later, there was very little improvement, and soon my symptoms were back. Desperate, I found the Oak Creek Relief & Wellness website through research on my own, since I already had the surgery with 3 disc fused, I wasn't sure they could help.
To my surprise after my consultation with my the clinic director, I was then referred to my doctor who looked at my history, x-rays, and was able to help. I noticed a relief in my symptoms on my first visit. I want to thank my doctor and the staff at the Oak Creek Relief & Wellness location for their compassion and care regarding my situation.
I only wish I had been given other options by the surgeon to try before going through with a surgery that only left me with the same symptoms I had before I went in. I would recommend my doctor to anyone going through a similar situation or anyone needing help and relief from pain to consider trying chiropractic care, before agreeing to any surgery.
-Lynn A. (Milwaukee, WI)
Great Success!
The problem that initially brought me to Oak Creek Relief & Wellness was neck pain and lower back pain. The neck had been bothering me for a few months, on and off, and the lower back pains had been there for a few years. I wouldn't say any of it was constant, but the frequency of which I felt it was increasing.
In the past, I hadn't tried anything as far as other treatments. Mostly I've just dealt with it, as I'm not the kind of person to look for drugs or surgery for any small problem, and the pain was manageable. However, having these pains was a daily reminder that something was wrong.
I began care with my doctor and Oak Creek Relief & Wellness on December 10th, 2010. My condition was diagnosed with x-ray, among other tests, and an exercise program with chiropractic adjustments was planned. Now I can safely say…all with great success!
Aside from the help with my symptoms, I have learned a great deal about the spine and the body, as my doctor took the time to "educate" along with his treatment, which you don't get too often nowadays. Another thing that made me very happy was the initial "special" which brought me in the door. I realized that for just a small amount of money that I could at least find out what might be causing the problem, what if anything my doctor could do about it, what it would take, and how much it would cost. That brought me in, and the results I experienced kept me coming back!
Besides just the relief, some of the other benefits I have from this place is I now have the confidence to do certain exercises knowing they aren't harming me, and I have the encouragement to keep exercising. The information they provide really helps one understand the structure of the body and why it's so important.
I would tell anyone with problems like I had to see my doctor for a work-up and a report of findings, and then based on the reasons behind it and the results I've had, FOLLOW THE PROGRAM THAT IS PRESCRIBED.
-Judy C. (Big Bend, WI)
Shoulder and Knee Pain Relief
Before I came to Oak Creek Relief & Wellness, I was suffering constantly from shoulder pain (both shoulders) and knee pain (both knees). I have been dealing with this pain for years and have been affecting my every day life during sleep, performing home chores and even playing with my grandchildren. I have tried physical therapy, medications, injections and even surgery, All of which helped me minimally, but it wasn't as long as I would like. I was discouraged that I would have to live with this for the rest of my life.
On March 2011, I started care at Oak Creek Relief & Wellness with my doctor to see if she could help me. My family has always believed in chiropractic care, so I didn't have a hard time trying something new. The office personnel were/are very polite, nice and efficient.My doctor is all of the above and more. Not only have I felt relief, but my doctor listens to you, not only about chiropractic care and symptoms, but even subjects about family.
For treatment, my doctor gave me exercises to perform at home as well as chiropractic adjustments and within 2-3 weeks, I was starting to see a difference. What I value most about coming in to see my doctor was that my shoulders and knee are not as painful as they used to be and I can perform the chores around the house as well as take care of my grandchildren. I am enjoying life. Not only do I come to see my doctor, but my granddaughter comes into the office and has found to have great results.
-Ruth C. (Oak Creek, WI)
Relief has been Both Physical & Mental
The main problems which I had dealt with for over 15 years that initially brought me in to Oak Creek Relief & Wellness clinic was neck pain and low back pain. My pain came and went to an extent, but was around more than it was gone. I had been to another chiropractor for treatments in the past, with which I had minimal improvements. These pain bouts I was dealing with kept me from functioning normally. I couldn't do a lot of household chores or even walk in the yard without a lot of pain. Sometimes I could hardly stand up straight or even have such pain I would have to stop what I was doing.
I began care with my doctor and Oak Creek Relief & Wellness in March of 2010. My experience here has helped me more than I ever thought imaginable – not only physically, but even mentally.
One particular experience that made me extremely happy was when I came to see my doctor for the first time and was welcomed immediately, and knew after talking with him that he really cared about how he could help not only get relief from symptoms, but cared about my overall well being as well.
Another specific benefit has been the chiropractic adjustments. The manual adjustments that are made to my neck by my doctor are unbelievable. I was always in pain, always had headaches, could not move my head from side to side like I should. He has made my neck, head and shoulders feel like I'm 20 years old again!
If anyone has problems like the ones I have had with my spine, I highly recommend they try Oak Creek Relief & Wellness. Surgeries are hardly ever the answer to relief. Sometimes it takes finding the right doctor, and that I have done!
-Cindi K. (Muskego, WI)
Improvement in as Little as 2 Weeks
I started at Oak Creek Relief & Wellness in December 2010 for lower back pain. Before I started, I had low back discomfort for approximately 6 months and it was starting to get constant and kept getting worse. Medications did not seem to help much and the pain was starting to affect my sleep and work. Since I walk for long periods of time throughout the day at work, it was starting to get unbearable. I have seen a chiropractor in the past, so I already knew that chiropractic was a great option for me, so I sought out care at Oak Creek Relief & Wellness.
She told me that the curve in my low back was not where it should have been, so we started rehabilitation to help improve my curve and other therapies to work on balancing out the muscles.
After about two weeks, I started to see improvements in my symptoms and it got better from then on. I do not wake up with the stiffness as much as I did before and walking at work is easier. I would recommend Oak Creek Relief & Wellness to anyone with back pain. The doctors, techs and other office staff are very nice and helpful. I already recommend them to co-workers and family of mine.
-Scott L. (Franklin, WI)
Share Your Thoughts
Please share your stories too! Click here to send us your feedback so that we can help to spread the word about the benefits of natural Oak Creek Relief & Wellness care.

Oak Creek Relief & Wellness Reviews | (414) 761-5777