Knee Pain Treatment in Oak Creek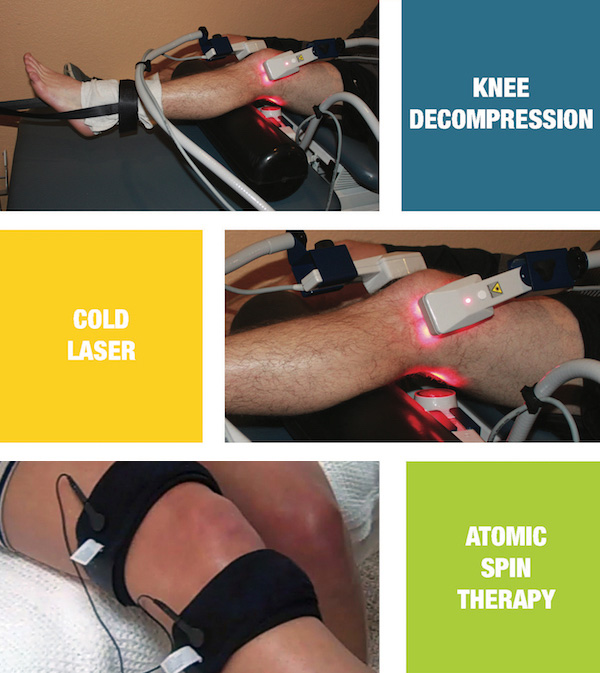 Have you been struggling with knee pain, and been told you may need surgery? Perhaps you've heard that you're "bone on bone and need surgery."
At Oak Creek Relief & Wellness, our knee relief and wellness protocols are likely an excellent option for you. The goal, of course, is to catch it before it gets to the true bone on bone state.
Before you consider going under the knife, give our less-invasive, cost-effective options a try.
More often than not, our therapies relieve symptoms, and more importantly, improve function.
NEW Patients

Our Approach to Treatment
We use many different types of therapies:
Class 3, Super-Pulsed MR-4 Laser Therapy: The laser therapy works as an accelerant for the body's normal healing processes, by way of the different wavelengths of this light therapy.
Knee decompression: The decompression increases the joint space of the knee, allowing for more nutrient and fluid flow through the joint, and decrease of the symptoms of a compressed joint.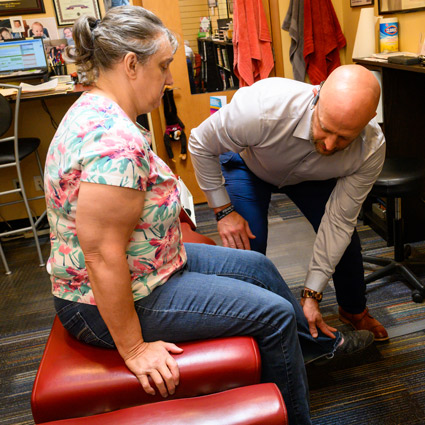 "Atomic Spin" Technology: This type of electric stimulation works to relax muscle spasm and decrease pain and inflammation in and around the knee.
Specific Metabolic and Anti-Inflammatory Support: Nutritional and topical options provide anti-inflammatory support and have been shown to support the health of the internal joint cartilage and structures as well.
Custom Foot Orthotics: These inserts provide a stable and supported "foundation" to the body through the feet. With supported arches, the foot can then function more optimally, and therefore the biomechanical benefits transfer up through the ankles, and then the knees, and beyond, all the way up through the spine.
Braces: These supports provide stability and pain relief so you can participate in your daily activities.
Stabilization exercises: These exercises help to strengthen and stabilize around the knee, for added support.
Chiropractic adjustments, including extremity adjustments: The adjustments restore spinal and neuromusculoskeletal (joint) alignment, integrity and proper function, allowing the body to fully express the innate healing potential.
What to Expect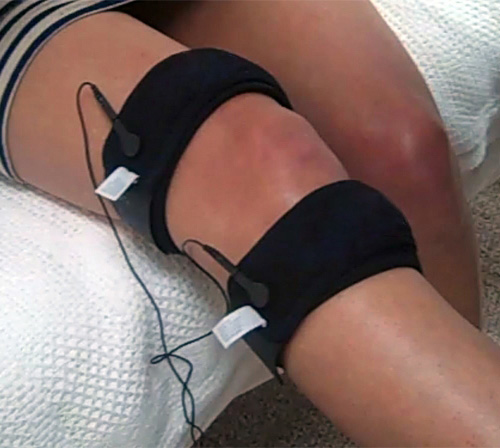 The First Appointment
First, we start with a work-up and examination. We assess structural factors such as the integrity of the arches, spine/pelvic/knee X-rays, and chiropractic examination of the spine, pelvis, and posture and gait cycle. We may delve into lifestyle factors too, such as diet, and inflammatory toxins that could contribute to degenerating joints. We also use different orthopedic tests to help diagnose the problems in and around the knee.
The Second Appointment
Once the examination and assessment are complete, we'll bring you back for a report of findings, where we'll go over the following:
1. What's wrong?
2. Can we help?
3. What tools can we use to help? How long will it take?
4. What does insurance cover and not cover?
At that point, with a game plan laid out, you'll let us know if you feel like you're in the right place, and it sounds good to you. If not, we'll do our best to get you somewhere that we think can help. If you choose to begin the care options we have here, we'll have a suggested treatment plan ready to go so you can get started right away!
Find Out If You're a Candidate for Our Knee Relief & Wellness Program
Contact Oak Creek Relief & Wellness in Oak Creek today to book a free consultation to discuss knee treatment.
We want to help you get back to your life, pain-free!

Knee Pain Treatment Oak Creek, Racine, Franklin, and Caledonia WI | (414) 761-5777