Robotic Laser Therapy in Oak Creek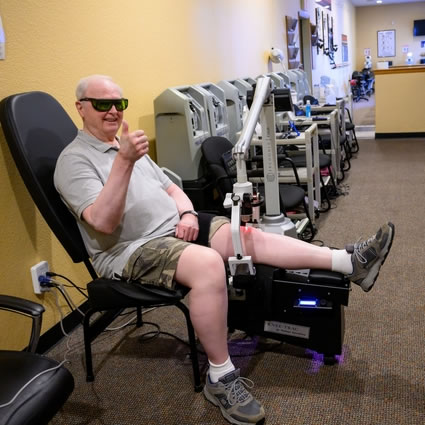 Oak Creek Relief & Wellness is proud to announce we now offer Robotic Laser Therapy. To simply state, this type of laser therapy is a "game-changing" therapeutic option for anyone experiencing pain and/or inflammation in the body that's looking to accelerate or enhance their healing process. MLS® Laser Therapy is a safe, painless and non-invasive therapy that utilizes dual wavelengths of infrared light to penetrate deep into the issue and stimulate healing mechanisms and regeneration at the cellular level.
FDA-cleared MLS® Laser Therapy uses concentrated light energy to stimulate the body's own healing process. This therapy works to minimize pain, reduce inflammation, improve circulation, and reduce recovery times so you can return to living your pain-free life.
NEW PATIENTS

Treating Conditions
MLS® Laser Therapy can quickly treat:
Plantar fasciitis, Achilles tendinitis, Other Foot Pain
Arthritis, Tendinitis, Bursitis
Sprains & Strains
Post-Surgical Recovery, Fractures
Neck Pains, TMJD pains
Low Back Pain, Sciatica
Carpal Tunnel, Tennis Elbow, Golfer's Elbow
Rotary tears, Shoulder problems
Knee and Hip tears, cartilage, or other problems
Swollen areas and surface injuries, such as wounds and ulcers
And more
FAQs
What happens during a treatment?
Laser therapy is painless, quick and easy. You will relax comfortably during your 8 to 12 minute session.
Recovery time depends on the severity of the problem. In some instances only a few sessions are necessary. Most patients will have noticeable results after 6 to 10 sessions.
No, laser therapy does not hurt. There is little or no sensation during treatment.
How many visits does a patient typically need?
Our doctors will create a recommendation based on your individual case and clinical needs. On average, typical plans include 6 to 15 sessions.
Yes, we are treating the source of your pain and inflammation instead of masking or covering up a condition. Because of this, many patients have seen long-term results.
Can laser therapy be used in combination with other forms of treatment?
Yes, MLS® Laser Therapy is sometimes more effective when combined with other forms of therapy.
Our doctors
will discuss any other recommended therapies.
Book an Appointment
Wondering if MLS® Laser Therapy is right for you? Contact us today to schedule an appointment!
CONTACT US

Laser Therapy Oak Creek, Racine, Franklin, and Caledonia WI | (414) 761-5777