New Year's Special Offer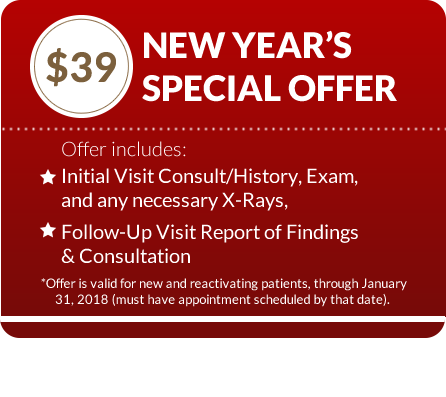 Eating fewer carbs. Cutting out sugar. Going to the gym more. While those New Year's resolutions are noble, we hope you resolve to achieve and maintain optimal spinal health.
That's why we're happy to be featuring a $39 New Year's Special Offer. What better way to discover new potential, vitality and ways to live pain or symptom-free!
The Details
With this offer, you get the following:
Initial visit consult and history
Exam and any necessary X-rays
Follow-up visit's report of findings
During the report of findings visits, the doctor will provide answers to the following:
What's wrong? Can we help? What's involved? How long will it take? How much will it cost?
We'll also review your insurance coverage and discuss any fees that may apply. 

This offer is valid for new and reactivating patients, and is good through (have the appointment scheduled by) January 31st.
If you've been curious about chiropractic or our wellness center in any way, or you've been in before and need to get reactivated, be sure to take advantage of this great offer!
PLEASE NOTE: To obtain this offer, you must print this page and present it at the office upon your first visit.
Contact us today and allow us to help you regain and maintain your most precious asset: your health.

New Year's Special Offer Oak Creek Relief & Wellness | (414) 761-5777