Peripheral Neuropathy Care in Oak Creek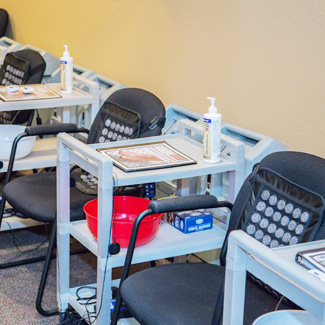 Peripheral neuropathy refers to the condition that results when nerves that carry messages to and from the spinal cord and brain to the rest of the body become damaged or diseased. These nerves send messages to the muscles, skin and internal organs.
Patients most commonly experience the resultant symptoms in their feet, legs and hands. The symptoms can range from sharp, jabbing pain to tingling, numbness, burning or weakness in the extremities.
Risk Factors for Peripheral Neuropathy
Here are some of the factors that place many patients in serious risk of developing this disorder:
Age: those over age 50 are most commonly affected
Alcohol abuse
Cancer: many cancer patients undergoing treatment develop chemotherapy-induced neuropathy
Diabetes: nearly 60% of diabetics exhibit neuropathy
Infections and autoimmune disorders
Statins: some cholesterol-lowering medications lead to neuropathies
Trauma: Auto and sports injuries can damage peripheral nerves if left untreated
Vitamin deficiencies: B vitamins are of particular importance in nerve health
A Patient's Success Story
When Betty first came to see us, she had been experiencing such a degree of numbness in her feet that she had trouble walking. Her inability to feel her lower extremities led to terrible balance problems, and she felt hopeless as to how she could ever feel good again.
She read about our peripheral neuropathy care and decided to give it a try. After two weeks, she began to experience significant relief. Following 10 weeks of treatment, her feet were no longer numb, and her balance began to return.
By making this commitment to her health, Betty not only felt better, but she avoided the consequences of being injured in a fall or even future amputation.
Over 20 million Americans currently suffer from peripheral neuropathy. If you are one of them, Oak Creek Relief & Wellness can help. Our state-of-the-art treatment program is results-oriented and noninvasive. Contact our chiropractic care center today for a free consultation. We want to help you experience the benefits of peripheral neuropathy care.
CONTACT US »

Peripheral Neuropathy Care Oak Creek, Caledonia WI | (414) 761-5777