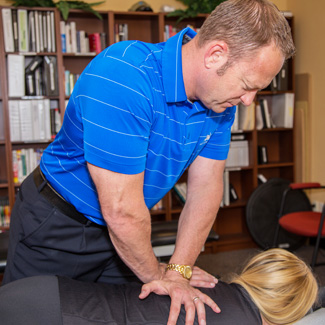 Chiropractic Care
Chiropractic is a health care discipline which emphasizes the inherent recuperative power of the body to heal itself without the use of drugs or surgery. The practice of chiropractic focuses on the relationship between structure (the spine) and function (as coordinated by the nervous system), and how that relationship affects the preservation and restoration of health.
Benefits of Chiropractic Care
Short-term or regular chiropractic care has many benefits, including
Arthritic joint pain relief
Better performance and energy
Decreased tissue inflammation
Enhanced tissue healing
Headache elimination
Improved mobility and range of motion
Increased balance and coordination
Less stiffness and muscle spasm
Sense of well-being and relaxation
Spinal and extremity pain relief
Reduced joint degeneration and risk of injury
Other State-of-the-art Healing Resources
We also feature cutting-edge, scientifically validated therapies that have proven to accelerate healing without the use of drugs or surgery. These therapeutic approaches include
Cold laser therapy
Custom orthotics
Functional medicine
Spinal decompression
While we are experts in quickly and effectively eliminating neck and back pain, that is not our only goal. Our objective is to restore and optimize human health, leading the way to a wellness potential you thought might be impossible.
CONTACT US »
Do you have a problem you have given up on? Contact our chiropractic care center today and ask about a free consultation.


Chiropractic Care | (414) 761-5777