Expert Chiropractors in Oak Creek
In Pain? Get the Relief You Need at Oak Creek Relief & Wellness
Is your pain stopping you from enjoying your life? We understand how difficult it is to live with pain, and we can help you take your active life back.
The experienced chiropractors at Oak Creek Relief & Wellness passionate about helping patients live vibrant, pain-free lives without drugs or surgery. Every age and walk of life is welcome in our practice, and we emphasize a gentle, customized approach to care. We offer free consultations and accept insurance, including Medicare & Medicaid/Forward Health.
Call (414) 761-5777 to book your appointment now!

Conditions Chiropractic Care Helps
Back Pain
Hip Pain
Neck Pain
Shoulder Pain
Headaches & Migraines
Plantar Fasciitis
Disc Problems
Degenerative Joint Issues
Arthritis
Avoiding Back Or Neck Surgery
Wondering if chiropractic care can help you? We're proud to offer a free consultation.
Call us at (414) 761-5777 or book an appointment online now!
What Our Patients Say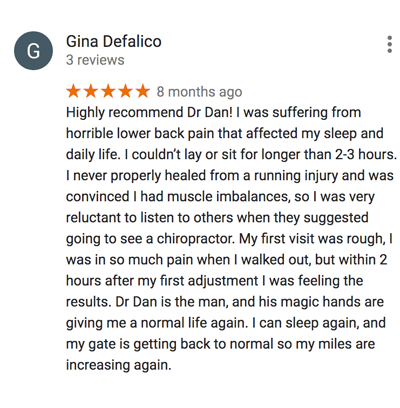 This place as a whole has been very helpful, friendly and informative.

Overall, the office was clean and organized and my doctor was very knowledgeable and helpful regarding my condition and treatment.

I started Dr. Krimpelbein's Decompression Program May 30, 2007. I had such a good experience at Oak Creek Relief & Wellness. My condition is 75% better already. It has improved my life so much!

From an overall point of view, this is the best facility I have ever seen. Every one of the staff is very friendly and professional. The facility has a wide range of exercises and treatments to help with the chiropractic adjustments to get the most out of your care.

I truly like the doctors here. They are happy faces, and personable, which helps when you're in a lot of pain. They take time to understand what's going on, but still keep you in good spirits. I remember feeling comfortable here right from the start.

The clinic is clean and comfortable and I get a great feeling from being there. Everyone is very friendly and helpful.

If I would have to give anyone advice about chiropractic it is to give it a try. You're not going to get better on your own.

Overall, I am happy with the care I have received. It has given me pain relief without the use of drugs or surgery.

My overall impression of Oak Creek Relief & Wellness is that it's well-balanced, and provides significant relief and improvements in overall health and wellness.

Oak Creek Relief & Wellness office & staff were very professional, yet very caring and concerned.

Oak Creek Relief & Wellness is very nice, clean, and pleasant and offer many different services. I have been to a few chiropractors in the past and Oak Creek Relief & Wellness has really improved my quality of life the most.
Request An Appointment
Our doctors are preferred providers (PPO) for many companies including:
Anthem Blue Cross/ Blue Shield
United Health Care
Humana
Cigna
Common Ground
Health EOS
Aetna
Aurora Direct
Network Health
*We accept assignment on Medicare & Medicaid/Forward Health.
If you have any questions regarding your insurance coverage, don't hesitate to ask us! Simply call (414) 761-5777 and ask for our insurance department to request a complimentary benefits check.

Top Recommended Chiropractors in Oak Creek